About
Quality log houses 2007. from
Founded in 2007. in
Baltic House Factory OÜ
Baltic House Factory OÜ is a privately owned company established in 2007. We are engaged in the design, production and sale of milled log buildings.
We produce both solid and glued laminated timber, as well as square and round timber buildings. Wall thicknesses in our houses start at 40mm. of solid wood and ends at 220mm. with a glue stick. Our factory also produces solid wood doors, windows and stairs. We export 90% of our production to the European market, where we produce log houses mainly to the wishes and orders of commercial customers.
Our range of products includes well-established standard off-the-shelf sizes, but we mainly deal with special projects to meet each customer's needs and requirements.
Our products have a very wide range of uses. The range includes garden houses, sheds, camping sites, home offices, cottages, sauna houses, horse stables, summer houses, residential houses as well as special projects with different uses according to the ideas and wishes of the customers.
Our mission is to provide high quality products with the best price-quality ratio.
Your dream is our reality! We can design and build a garden house, sauna, garage, dwelling or other building to your specifications.
In addition, we offer transport of houses, erection if necessary. If required, high-quality colours, insulation materials, roof coverings and other necessary materials for log houses, according to the complexity of the houses requested by the client.
Baltic House Factory OÜ has been a member of the Estonian Chamber of Commerce and Industry since 2010.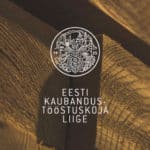 From
BALTIC HOUSE is registered and protected as a trademark in the Register of Goods and Service Marks of the Patent and Trademark Office by Baltic House Factory OÜ in the fields of activity of the company.
Houses suitable for our climate
We have a long experience in the production of log houses and solid wood houses and know what suits our environment.
Peace of mind guaranteed
We are confident that all our customers will be satisfied with the product, both when they receive it and when they use it later.
A client-centred approach
There are no typical projects for us. Each client is unique with their own needs and wishes, and we will find solutions.
Fast and convenient service from Baltic House. I wanted to have a garden house for my garden that wasn't like every other garden house in South Estonia. In a couple of days we had the project together and soon the new garden house was in the yard waiting to be assembled.
I got the sauna solution I was looking for. I'm so tired of conventional egg and barrel saunas - there's not enough room. But now I have a suitable sauna house in the garden of my home, which I can also use as a guest house in the summer.
Baltic House Factory
Our core values are quality, natural materials and closeness to nature. We put customer satisfaction first.
Office
Vasara 50, 50113 Tartu, Estonia